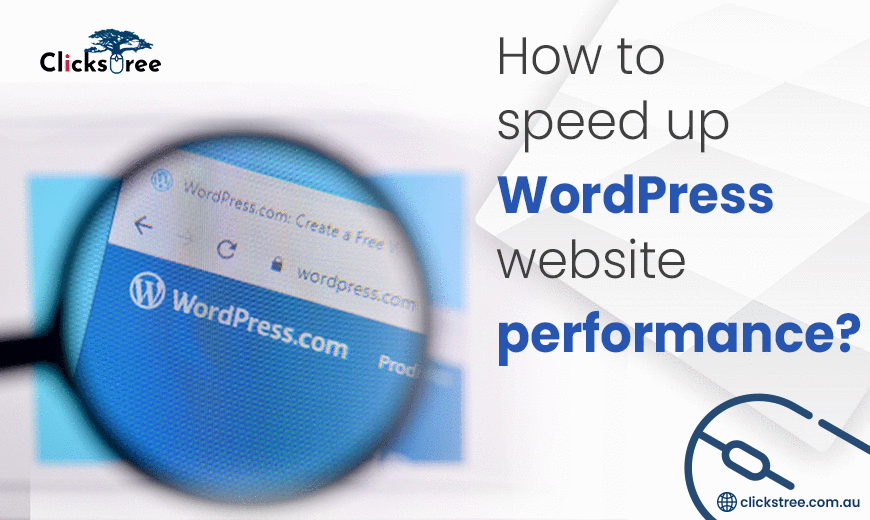 How to speed up WordPress website performance? Who doesn't know the lucrativeness of WordPress websites? Subtle yet attractive, easy to use yet complicated at times. But the one thing that cannot go unnoticed is that to run the WordPress platform, one doesn't need to be a web genius. Isn't that delightful that you can have your very own website without getting into the coding jibber-jabber? Though WordPress website development is not that tricky, there are some points where you would need an expert's help to take care of the "technicalities." Let's discuss furthermore in our article below and help you find your perfect answer to How to speed up WordPress website performance?
WordPress offers a plethora of plugins that can help your website to fetch traffic, build interactive websites that match your business needs. Not only this, there are other plugins, which help in speeding uploading time. They also focus on the overall website performance and help to boost search engine optimization (SEO) of the website. Here is when you would require an expert to help you get the best performance out of your website. Installing plugins is not enough as a lot goes into making sure that the website is successfully fetching the intended results.
Why choose the WordPress platform to build websites?
If it is like a puzzle to you where you are finding it hard to match pieces and understand why to use WordPress for creating websites, to solve the riddle, you need to yourself use the platform and see how easy the work gets done. There is always a reason if something is gaining momentum in the market. WordPress website building has become a niche in the digital marketing industry where experts offer specialization in it, and that is the importance that the platform holds where the website world is revolving around its vast channel.
Statistically speaking, around 40% of the web that you surf is rolling on WordPress websites. That's a high percentage worth noting, and it is logical that one would like to invest in it due to its credibility, comfort, and efficiency that makes the work easy breezy.
To sum it up briefly:
· WordPress literally offers millions of themes to choose from! It means that you have more than enough choices to get the style according to your purpose for creating the website.
· There is everything for everyone! You are not limited in any way when it comes to working with the WordPress platform. From well laid out dashboards to custom editing themes, you are at ease to make use of and present the website whichever way you like.
·         Create dynamic or static websites as smoothly as applying butter on bread.
·         It is reliable, offers extensive support, plenty of plugins, SEO friendly, and the list goes on. There is so much that you get everything ready on your plate without even having to lift your arm.
The above gives quite a glimpse of how it is to work with WordPress websites, but we cannot overlook that it takes a sharp mind to use the platform to its full potential. For someone new to the field, he will find it hard to comprehend the various services that WordPress offers. There are some key points to take into consideration for expediting the performance of WordPress websites.
#1. The host stands significant:
Make sure not to take it for granted and fall for the cheap packages while purchasing web hosting. One of the common errors that people make is that as soon as they hear discounts and promotional offers, they fall for it without contemplating the outcomes that a hosting company may have on you. Cheap can be in one's benefit only if brought from a hosting company known for its credibility and performance else the money spent will go down the drains. If the hosting is adequate, your website will definitely function smoothly without a doubt.
#2. Plugins to your rescue!
Do not forget to download WordPress plugins, especially that offer catching content, more agile web page upload, and compressing images and videos without losing the quality to make the website light yet fulfilling its purpose meticulously.
#3. Optimization of pages and content on the website:
Some pages need special attention optimized in a way that they load faster. Please do not make use of widgets on the homepage as that makes the website considerably heavy. Did you know that about 4.4 percent of the people will come and leave your site as quickly as a second if it doesn't load that instantly? It is vital that you take care of the content listed on the webpages and that it loads quickly. There are engaging techniques that you can follow, such as listing not more than 5 to 7 posts per page, making use of excerpts instead of listing the full web post, and present content with the reader's perspective in mind.
Do not bulge your website with unnecessary plugin, content, and items that make it look over-crowded, taking its essence away.
#4. Disable hotlinking please!
Don't let someone else mooch on your server. Please disable hotlinking using the WordPress plugin so that you stay safe from this online theft. If left enabled, it is very much possible that your website will fall into the trap of content scraping where your server will become heavy, making it difficult to function properly, hindering your website performance alarmingly.
#5. Do not forget to optimize the WordPress database:
Tedious, lengthy, and one of the most boring jobs to do is to optimize the WordPress database, but no matter how the process is, it stands essential to take care of it, or else the website performance will get a jolt. One foolproof way to get this sorted is by making use of the WP-Optimize plugin, which will make your life easy.
To wrap it up!
WordPress websites turn out to be the most vibrant, spiffy, and sassy looking websites that rope in the attraction of the user. With so many themes, plugin, and widgets available, the WordPress platform lets you design the most flexible, customizable, and alluring websites that well solves the purpose of its creation. E-commerce, personal, organization, business, or a website just for entertainment purposes, the platform offers you surplus tools to design and build websites that bear lucrative outcomes.
A website is your business's virtual presence and while you have the chance, give your best shot to get an immaculately laid out website that speaks in volumes about your business.