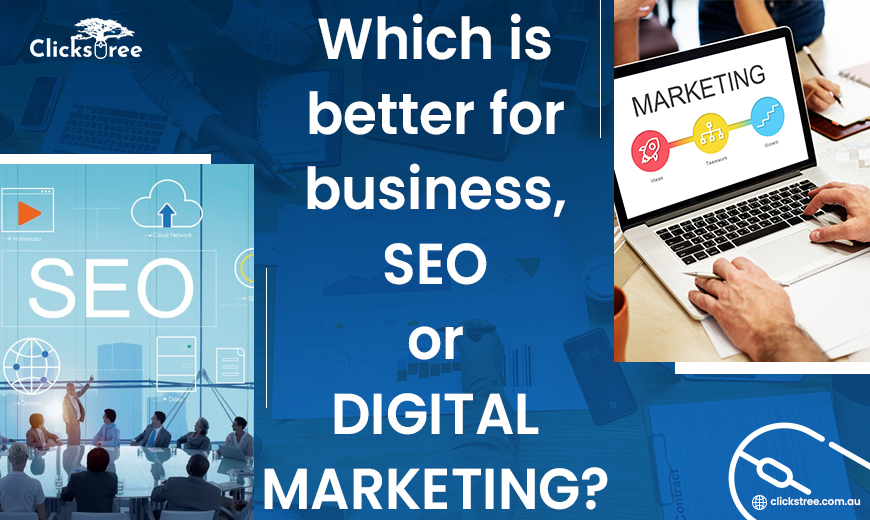 Search engine optimization and digital marketing are often mistaken with one another and are considered to be synonymous. But the truth is that they aren't. If they are compared with each other, then you would see that they both are equally important for business purposes. Both digital marketing and SEO are very much interlinked with each other and we will find out in our article further about the topic Which is better for business, SEO or digital marketing?
What is digital marketing?
Digital marketing is all about marketing your brand digitally. Marketing is all about reaching out to people to make them aware of your brand. Hence the two words "digital marketing" when put together comes out to be a form of marketing using digital tools. So now that we understand the meaning of digital marketing, we need to know about the various digital tools available and how are they different from the tools which were used earlier for marketing!
Tools available for marketing:-
Where traditional marketing uses tools and media like radio, magazines, direct mails, newspaper, tv, billboards and other forms of print media, we have different tools for digital marketing. The tools for digital marketing include search engine marketing, search engine optimisation, social media marketing, email marketing, mobile marketing, online PPC advertising, content marketing etc.
Difference between SEO and Digital Marketing
1. SEO is under Digital marketing
To be precise about this statement, SEO is one of the tools of digital marketing. And if you are ready with your website and are thinking about marketing it, then you should definitely start with SEO. it is a fact that a website which is appropriately optimised for search engines will give you some foundation for all other things you are planning to do.
2. Organic traffic stands for SEO and paid traffic stands for digital marketing
The second and most important difference is how does your website get traffic? SEO tries to give your website some height on the basis of google keywords. The higher the number of keywords of the article is on google, the better will be its positioning. While digital marketing targets more of paid marketing and uses more of pay per click advertising (PPC advertising).
3. Cost of SEO vs Cost of digital marketing
Now coming across the third difference between SEO and Digital marketing is in terms of money.
Cost of SEO: if the article is properly optimized, it will start ranking on Google on its own, without any monetary help and the organic SEO traffic would increase on its own. So the only cost you would require is to pay for the SEO services.
Cost of digital marketing: Nonetheless, digital marketing doesn't stop at paying for specialized services. The expense of digital marketing can reach as high as some thousands every month. For instance, if a site shows up on the main page of Google, or if an organization's advertisement shows up on Facebook, that is totally paid advertisements and the advertisement entirely depends on the organization's monetary budget. When the organization's financial plan is completely drained, marketing stops and the organization loses all its online traffic and the perks of being situated on the primary pages of Google.
Why Digital Marketing?
We are in the digital period, where individuals like to utilize the web on their PCs, versatile and tablets for looking through products and services. These customers of digital time clients are in billions of numbers on the planet. There are a bunch of opportunities to interact with expected customers on the internet. Digital marketing comprises of marketing methods which promote your business, products, and services on the internet and give you significant leads and sales.
Benefits of Digital Marketing
Digital marketing can be done all 24 hrs of the day and 7 days of the week.That is the reason this marketing method is development oriented.
This marketing method utilizes PPC (pay per click) implies you need to pay just when any client taps on your advertisement or shows some interest in your products or services.
This marketing procedure not just accentuates on paid advertisements, it also utilizes the turnpikes to arrive at your correct customers through content marketing, social media optimization and search engine optimization
This is the best stage to reach your target customers when they are not on the lookout, it implies in any climate, day and circumstances your services and products will arrive at the correct clients.
SUMMARY
SEO and Digital Marketing are not equivalent. Albeit comparable, they are not the equivalent. SEO masters center around optimizing a site to get the most noteworthy rankings on internet search results or search engine results (SERP) and along these lines increment organic traffic which is free of cost. Digital marketing pros center around upgrading generally online introduction and imperceptibility for customers utilizing their corporate finance, utilizing different digital tools like paid advertising to accomplish their marketing objectives. So now you know the distinction among SEO and Digital Marketing.