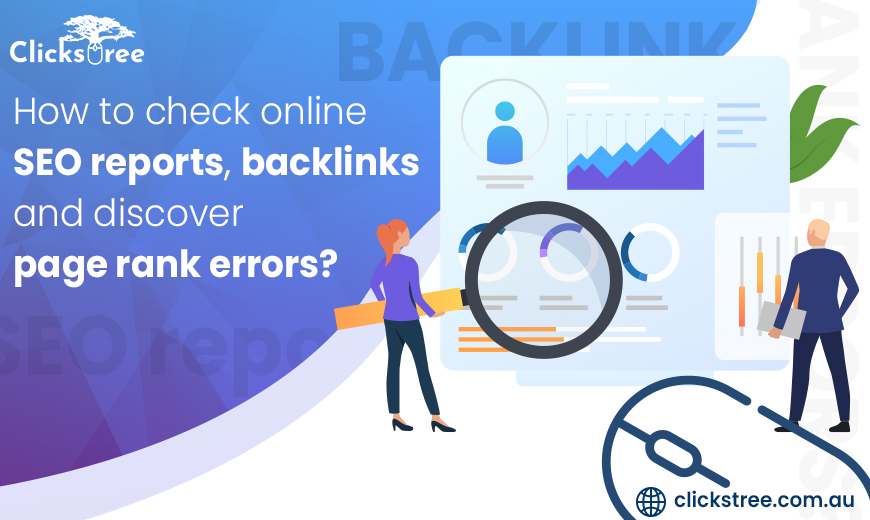 Introduction
Going with the discoveries that you have made about google rankings, it's easier to rather say than doing it. It's better to remind you of the fact that there are millions of others who are trying to steal away your current rankings and many of them are fairly well successful in doing it too. Then what do we do? The last thing we can do is to sit idle and wait for others to sway us back in terms of the search engine rankings. Probably that's the reason why you are here with How to check online SEO reports, backlinks and discover page rank errors? So without wasting any more time, let's proceed and let's get you there.
The people who fail at making their websites rank are the ones who aren't aware enough about the competition that exists on every keyword, you tend to target. And for you to compete with all those websites and make your way through them isn't that easy as you might have thought it to be. So here we would take the help of online seo reports, backlinks and discover page rank errors.
Online SEO reports
What do you expect from your website? More search traffic, more attention from your target audience? How do you think you will know from where you are getting all this information from? Here is when you will need online SEO reports. Online SEO reports are nothing but a detailed analysis of the performance of your website. There are many tools which are used in doing so. To state some examples, we have- SEMrush, Moz, Ahref and many others like these. With the help of this, you wouldn't be required to glean from various other sources about your performance.
What are SEO Reports Really Comprised Of?
SEO reports are not just a one-page report which tells you the ranking you get on different keywords people have searched till then. It comprises of three reports which are as followed:-
Keyword research report
Competitor's analysis report
Website auditing report
What is the use of these reports?
Before you start your website, you should know how you will proceed towards it. SEO reports are really helpful in determining those things. These benchline SEO reports will be used to analyse the results afterwards. You should have a look at your SEO reports on a regular basis. This is to update yourself regarding any shortcomings which may come your way during the process.
Backlink Analysis
If you have ever cared about your backlinks, then you need to run a backlink analysis just so that you know from which all websites you would want to get your backlinks from. This is a form of an analysis which is important for creating both external and internal links.
While good links can significantly enhance your ranking when your target audience searches for a topic which is related to your niche, but here comes a catch. Bad links can equally be harmful to you.
Hence, it becomes important for you to conduct a thorough backlink analysis before you start building your links with other websites. According to the search rank algorithm which we follow, domain authority and external links strengths are both important parts of building your website.
How To Check With The Backlink Analysis Tools?
There are numerous varieties of backlink analytical tools available in the market. But the purpose of all of them is the same. It includes showing perfect keywords, authority of the websites you can get your links from and obviously links themselves. There are some great backlink analytical tools available in the market. Some of them being Ubersuggest, Ahrefs, Linkody, etc.
This becomes really important when a competitor analysis has to be performed. You can think of it this way that if your competitors are performing better than you and ranking higher, they must be doing something which you aren't. So just try spying over your competitor by using these tools.
What are Pageranks?
Page rank is a system of ranking the pages which was discovered by Google founders Larry Page and Sergey Brin in the university of Stanford. This system of ranking gave each page on it some rankings on the basis of algorithms. And that's where it all began. The concept of SEO reports and the need for it has arisen from that moment only. There are associated pages linked to every keyword and when you search it, you find numerous pages ranked differently. This ranking is based on certain rules set by google to determine the priority of different pages. .
How to discover your page rank errors?
Which SEO errors do you think are harming your page ranking? Is it the meta tag or duplicate content? Or is it the page loading speed out of everything? According to research, these three are the most important reasons for the downfall of any website. Here's how it works. However, in today's world, people have established a great knowledge about pageranks. Hence, you can now boost your pageranks by doing the following:-
Quality backlinks
Magnificent internal linking
Conclusion:
SEO and pageranks have created a dent in the world by empowering google and making it the biggest search giant on the internet. Search engine optimization is made up of multiple different components. Keeping it short, online SEO reports, backlinks and pageranks are important for bringing more and more traffic to your page which further brings more customers at your doorstep.