Indispensable Social Media Marketing
Get your business on every social media as it is exceptionally crucial part of online business
Making adequate social media presence is
no child's play
Connect with customers faster through adequate social media marketing and that requires some nitty-gritty work.
Facebook
One of the most popular social media channels and that is why it also becomes difficult to campaign in a way that can help in intended business goals. Facebook offers target-based and organic ad campaigning as well. It requires thoughtfulness of the ad campaigners to advertise in a way that the desired goals are reached successfully. Intricate understanding is needed. We help our clients with:
Running social media page
Setting up campaigns to generate leads in the best way possible
Watching over the ads 24/7 and taking appropriate steps to enhance the results
Instagram
With over 500 million active users using the app daily, it is only logical to invest in advertising with Instagram. The application provides different ways to advertise using one's business page where from boosting the post to running videos, a lot can be done. We help our clients to run ads effectively on Instagram, and for which we offer:
Powerful content for making stories and sharing them with the followers
Measure to increases following on Instagram
Optimizing ads to attract attention, with the mind-set of increasing business sales
Pinterest
The importance of Pinterest cannot be ignored when it comes to advertising. Though comparatively the active users are less, it works great for fetching the audience on landing pages. People actually look up to Pinterest to check out what's trending as you can feature your business graphically in the most apt way on Pinterest. The users pin up the pages, share them, save it for reference, and whatnot. All of it helps effectively in building brand identity. We help with:
Creating spectacular graphics that users would want to pin
Optimizing content that highlights the ad campaign effectively
Managing profile that aims to gain popularity
Twitter
The best feature of advertising with Twitter is that the platform is quite economical. For creating a voice for your brand, the contribution of Twitter cannot be ignored. From setting the budget of advertising to the type of audience you want to advertise for, it helps with everything from top to bottom. We prefer Twitter platform for advertising quickly and reaching the intended audience. We work to create:
Implementing effective strategies
Attractive one liners to feature on the ad
Tailoring ads as per the need from time to time
LinkedIn
Reputation stands crucial for every business and one platform that is solely dedicated to build reputation of your business is LinkedIn. It is a platform that works in multifaceted ways from business perspective. Posting jobs, hiring people, advertising about one's business, creating a strong stand for marketing the business and everything that comes with it. LinkedIn is a need of today! We help to:
Create a powerful and eye-catching profile to set a flaring impression
Advertising business with great content
Articles to feature on LinkedIn that describes your business effectively
YouTube
A platform that stands best with pay per click (PPC) advertising is definitely YouTube. It gives voice to your business with the maximum reach as after Google, YouTube is the second-largest platform in the world. We help to:
Grow your YouTube channel quick
Advertising with the intention to generate fans of your brand
Creating powerful campaigns in short snippets to grab attention
Connect with your ideal customer through social media
Social media marketing that
assures leads
Clickstree social media managers are certified helping you to get nothing but the best.
Why hire Clickstree Social
Media Expert?
Setup your social media channels for success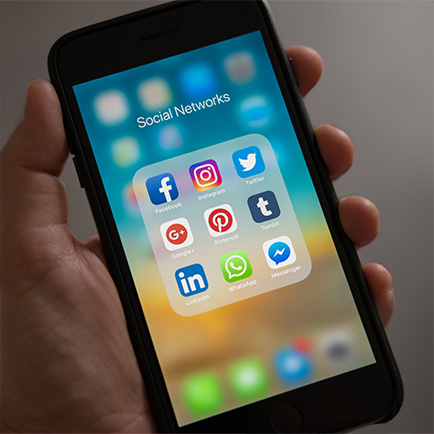 Social media marketing is a crucial step for building the brand identity of your business online. For awareness as well as building identity, the right approach stands utmost necessary. It takes an insight into the social media strategist to understand a business and generate campaigns that not only pictures your business correctly on various channels but also stand out unique. The competition is high in the market, you wouldn't want your business to sound the same as your competitor, would you? That's why you need our expert social media team. They are certified, creative and have mastery in their field. When you choose to hire us, you get: