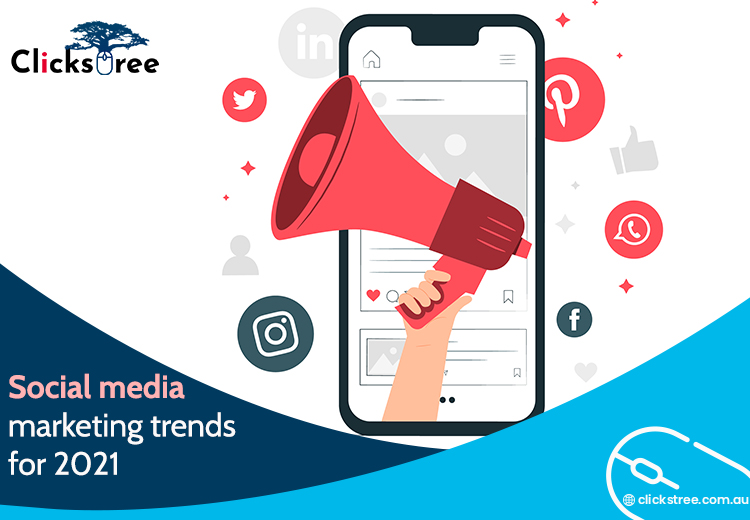 As social media sites add new features and modify their algorithms, Social Media trends evolve as well. Take, for example, Instagram Stories. Snapchat was famous for its vanishing, FOMO-inducing material a few years ago, but there didn't seem to be much of a demand for similar features on other networks. On Instagram, approximately 500 million users use the function on a regular basis, and additional platforms are implementing similar capabilities.
That demonstrates how fast we embrace new social media trends.
These fast shifts create a whole new set of challenges for businesses and social media marketers, who must continually evaluate their existing tactics and pivot to incorporate new types of content.
Marketers must constantly monitor the newest developments impacting the future of social media and adjust their strategies accordingly.
You're in luck if you're seeking the most up-to-date social media trends
. We've compiled a list of the top trends to keep an eye on in order to help you adapt and develop.
1. Live streaming will continue to be popular.
Many companies went digital to preserve social distance and avoid the spread of COVID-19 during the worldwide health crisis of 2020. Live concerts became live streaming of musicians playing from their homes, while face-to-face meetings became Zoom conferences.
As a result, the adoption of live streaming services on social media has increased. Messages and live broadcasting on Facebook skyrocketed, especially in COVID-19 hotspots like Italy. In only a week, for example, the number of views on Instagram and Facebook Live doubled.
People have grown accustomed to being able to engage with companies live without ever leaving their homes, and this situation will continue to evolve. As a result, live streaming will continue to gain traction and should be included in your social media marketing plan.
According to the current Sprout Social Index, live video is one of the most useful forms of content for accomplishing goals, according to 25% of marketers.
2. As a content format, stories
Every day, more than 500 million people interact with Instagram Stories, as previously stated. So, despite the fact that Instagram Stories were already the most popular content format the previous year, they aren't going anywhere anytime soon.
If they haven't already, brands will need to get more organized and prepare for Stories as a content format in their publishing schedules. More significantly, the video will become more popular as a Story format as it appears to outshine pictures.
Images have a 5.65% greater tap-forward rate than videos in Stories. The number of individuals that watched your Story but went on to the next one before finishing it is known as the tap-forward rate. The same study discovered that photographs in Stories had higher drop-off rates than videos, indicating that consumers prefer to watch videos.
It's no surprise that 51% of businesses are currently utilizing videos in Stories, and that figure is expected to rise.
3. Virtual reality will gain traction on social media.
People are looking for more meaningful virtual connections in the midst of stay-at-home directives and the necessity for social distance. One of the current technology advancements that can supply them with those encounters is virtual reality (VR).
When you interact with people through virtual reality, you get the feeling that you're truly there with them, even if they're halfway around the world. This is the type of encounter that people require when they must socially separate themselves.
As platforms press forward with adopting this technology, virtual reality is anticipated to acquire greater popularity on social media.
4. As a media trend, augmented reality
Recent developments, similar to those that have expedited the acceptance of virtual reality, have hastened the adoption of augmented reality (AR) experiences, especially in the social sphere. AR, unlike VR, does not require any additional technology beyond a smartphone, making it even more accessible. It's also recognizable from experiences like dynamic picture filters, which have been around for a long time on a variety of social media sites.
Augmented reality experiences are by their very nature interactive and engaging.
AR filters are fast becoming a popular way for brands to promote new items or stimulate fan involvement on social media. This keeps your audience interested and amused, and with the appropriate advertising, it may even help you attract new consumers.
McDonald's came up with the Spice Zapper filter, which allows users to zap nuggets as they fall, as an outstanding example.
5. The popularity of social commerce will continue to rise.
We're seeing more features and tools that promote quick and easy purchasing as the social media sector adapts to improve the customer experience. For example, you may add product tags and enable simple checkout on Instagram without ever leaving the platform. You may create a Shop on Facebook that people can explore and purchase directly from the platform.
Brands like ThreadBeast are already experimenting with social media shops.
Given the importance of social media in purchasing choices, this might be the ideal tool for marketers to use. Keep in mind that 54% of social media users conduct product research on the platform.
6. Campaigns with a clear purpose will take center stage.
While social media has always encouraged people to become involved with issues, the worldwide epidemic has shone a stronger focus on them. More than ever, people want to assist, and they expect companies to respond.
In fact, according to a Twitter poll, 74% of respondents want businesses to highlight acts of kindness. And 77% are more favorable about businesses that are attempting to help society during this crisis.
As a result, we may expect to see businesses assisting in whatever way they can with purpose-driven social media initiatives. Brands should help vulnerable people in the community, according to 86 percent of poll respondents. Moreover, 82 percent of respondents anticipate increased support for frontline health staff.
8. Authenticity and openness will be essential.
Consumers want brands to be more authentic. This necessitates preserving your items' and operations' authenticity and openness. You must be honest with people if you want them to trust you.
What better way to accomplish so than by using social media? Transparency and audience engagement are the top two elements that make a brand's social best in class, according to the 2020 Sprout Social Index.
Conclusion
Are you ready to keep on top of the latest trends?
Anticipating today's social media trends might help you establish a better presence in the future. You'll know exactly what to look out for and how to adjust your social approach to the latest social trends. However, deciding what to focus next might be difficult.